Third Creek Supply, Inc.
Mobile Home Supplies for North Carolina
---
---
- Carpet and Vinyl -
---
- PLEASE CALL FOR IN STORE AVAILABILITY -
---
Our Shipping Policy
We ship smaller items using U.S. Postal Service Flat Rate boxes when possible.
Any products that are too large for the flat rate boxes are shipped by FedEx Ground, UPS or LTL Truck Lines with the lowest possible rate for each item already calculated and automatically added during checkout. Deliveries to personal residence by LTL freight carriers may include additional charges.

NOTE - If buying multiples of any one product or when combining items, be sure to contact Wes to see if you qualify for even lower shipping rates!
Prices for carpet picked up at our warehouse will have a 6.75% N.C. sales tax added.
Call us for shipping quotes today!
---
CARPET
12' | 13.6' | 15' Widths Available
Plush, Frize, Commercial, Rolls & Remnants
Call for Colors and Prices
---
BOAT CARPET
6' | 8' Widths Available
Call for Current Selection
---
OUTDOOR CARPET
Heavy Duty Turf Carpet and Gripper Back Outdoor Carpet
Call for Current Selection
---
VINYL FLOORING
12' | 13'2" Widths Available
13'6" | 16' Widths Limited Availability
Call for More Information
---
CARPET PADDING
8 lb. 7/16" Rebound Padding
$3.95/Sq. Yd. or $0.44/Sq. Ft.
6' Width
---
6 lb. Rebound Padding
$2.95/Sq. Yd. or $0.33/ Sq. Ft.
---
Large Selection of Carpet and Vinyl Flooring Remnants In Stock
Call for Available Sizes.
---
CALL US @ 704-872-7502
---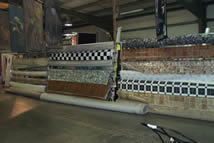 ---
7ft. 6 in x 10 ft. 6 in. Oriental style rugs $99.95
Many other size rugs in stock
We cut no move rug pads for any size rug

Thanks for shopping at Third Creek Supply, Inc. ONLINE!
Third Creek Supply, Inc. has been providing homeowners with Doors, Windows, Steps, Skirting, Plumbing, Electrical, Carpet and Much More since 1984 from our main store located in Statesville, North Carolina,
3 miles from the intersection of I-40 and I-77!
We appreciate your business!
If you have any questions or want more information
about anything you see here,
Don't hesitate to give Wes a call at 704.872.7502 or 1-888-876-7502
or EMAIL HIM.
---
Thanks for shopping at Third Creek Supply, Inc. ONLINE!
Third Creek Supply, Inc. has been providing homeowners with Doors, Windows, Steps, Skirting, Plumbing, Electrical, Carpet and Much More since 1984 from our main store located in Statesville, North Carolina, 3 miles from the intersection of I-40 and I-77!
We appreciate your business!
If you have any questions or want more information about anything you see here,
Don't hesitate to give Wes a call at 704.872.7502 or 1-888-876-7502